Posters
The following posters have been presented in the fast forward session on Tuesday, 20 April and in the virtual posters session on Wednesday, 21 April. In accordance with the wishes of the authors, some of them are available for download here:
Linearly Transformed Spherical Harmonics
Jan Allmenröder and Christoph Peters
2-page paper, poster
MMPX Style-Preserving Pixel Art Magnification
Mara Gagiu and Morgan McGuire
Link to a paper about this project
Quantifying Sign-Language Movement Kinematics from Video
Aline Normoyle, Samuel Rothstein and Norman Badler
poster
Rendering Decals and Many Lights with Ray Tracing Acceleration Structures
Sidney Hansen and Christoph Peters
2-page paper, poster
Rendering of Many Lights with Grid-Based Reservoirs
Paula Jukarainen, Jakub Boksansky and Chris Wyman
poster
Demos
Additionally, some paper authors gave live demos of their techniques during the virtual posters session on Wednesday, 21 April. These demos have not been streamed to Youtube, you had to be there to see them. Here is a list of these papers:
Real-Time Geometric Glint Anti-aliasing with Normal Map Filtering
Xavier Chermain, Simon Lucas, Basile Sauvage, Jean-Michel Dischler and Carsten Dachsbacher
Guided Visibility Sampling++
Thomas Koch and Michael Wimmer
Real-Time Subsurface Control Variates: Temporally Stable Adaptive Sampling
Tiantian Xie and Marc Olano
HeterSkinNet: A Heterogeneous Network for Skin Weights Prediction
Xiaoyu Pan, Jiancong Huang, Jiaming Mai, He Wang, Honglin Li, Tongkui Su, Wenjun Wang and Xiaogang Jin
Stochastic-Depth Ambient Occlusion
Jop Vermeer, Leonardo Scandolo and Elmar Eisemann
Awards
An AMD GPU is awarded for the best student poster presentation.
Virtual Posters Session
You must register to attend the posters and demos session. For more details, visit the #posters channel once registered.
Posters were a unique experience, held in a 3D VR space (but you could also use your browser), hosted using Mozilla Hubs. A 60-minute tour through the session, featuring all posters, has been streamed to YouTube. A recording is available here. The session had a soft ending, discussions continued after the 60-minute stream had ended. Here is an album showing last year's space and a preview of our new space: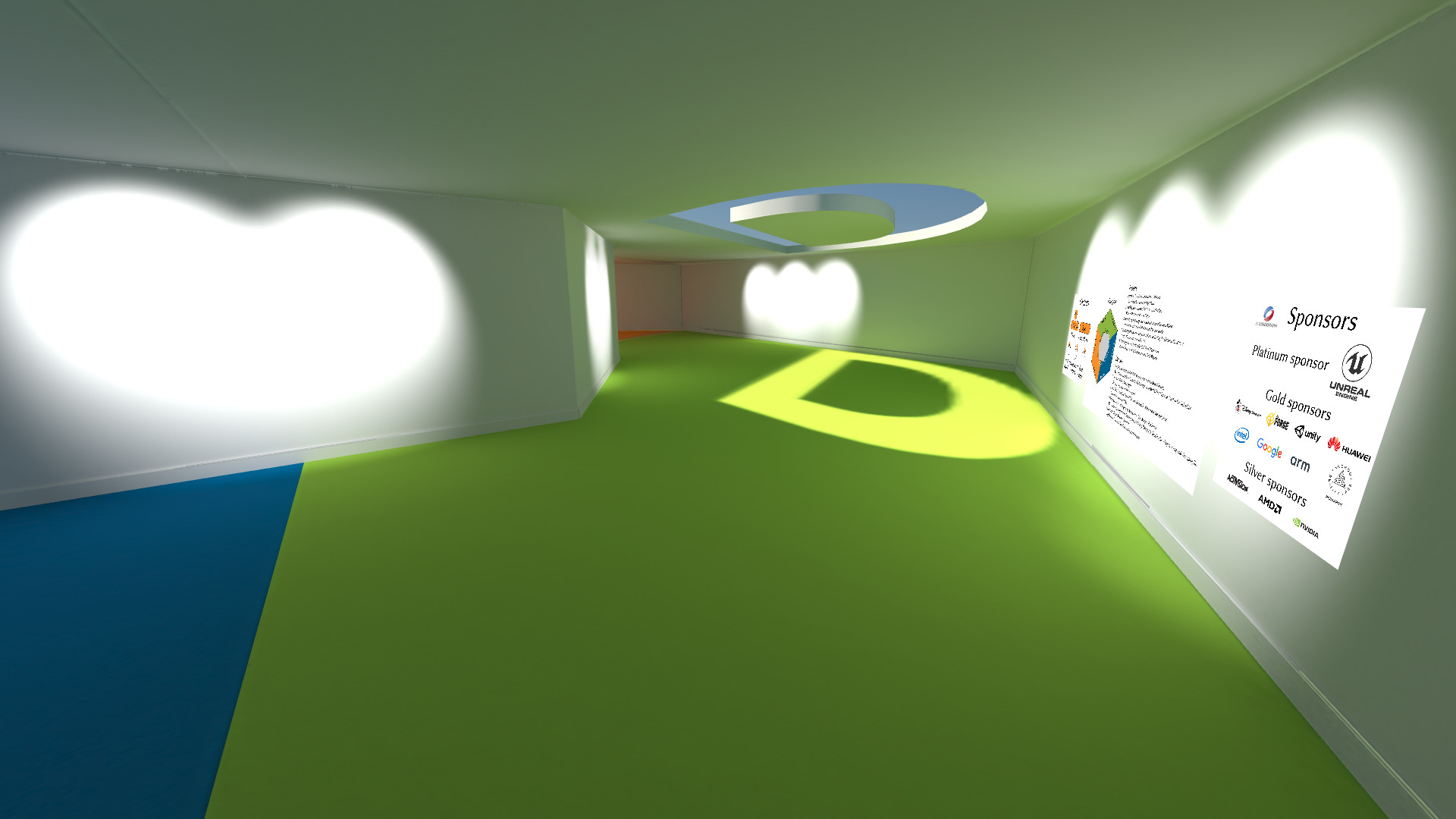 All questions about posters and poster presentations should be directed to I3D 2021 Posters Chair Christoph Peters.